Safely & securely transport all of your conduits, electric components, and pipes with high quality conduit holders.
Safely and securely transport all of your electrical equipment with conduit holders from Van Products. Manufactured by industry leader, Adrian Steel, our conduit holders are high quality and designed specifically for conduits, electrical components and piping. Easily attach our conduit holders to your ladder racks and more.
Conduit Carrier Kits & Features
At Van Products, we carry a number of conduit holders and conduit carrier kits. Our team members will be happy to talk to you and provide additional information on the different options and features available with each kit. We are also glad to speak with you about customizing something to fit your commercial vehicle.
Some of the featured conduit holders we offer include:
Aluminum Conduit Carrier
Aluminum Conduit Carrier
4″ PVC Conduit Carrier Kit
6″ PVC Conduit Carrier Kit
Features of our conduit carrier kits may include:
Padlock tab allows locking (padlock not included)
Cast aluminum door
Weather resistant rubber gasket
End cap and saddle brackets
Zinc-plated U-bolts and hardware
Take a few moments to look through our wide selection of conduits, conduit holders, and conduit carrier kits. For additional information or any questions you may have about the types of conduit holders we offer, give us a call at: 919-238-4597.
We look forward to upfitting your commercial vehicle with one of our high quality conduit carriers from industry leader, Adrian Steel!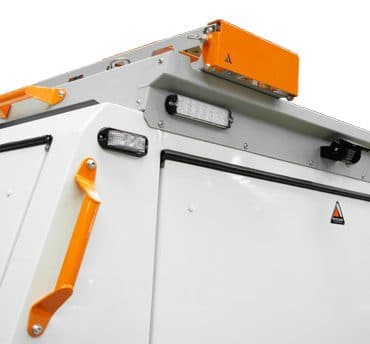 Van Products - Commercial Upfits