Easily move heavy items in and out of your van with portable lifting cranes – built for form & function.
Easily lift and transport large, bulky, or heavy items in and out of your van with portable cranes, like SpitzLift.
SpitzLift portable lifting cranes are designed with vans in mind – both in form and function. As one of the most trusted names in the industry, we love Spitzlift portable lifting cranes for its versatility as well as how easy it is for our customers to use.
Whether you use a van on the road as part of your mobile business, or you have a van for personal use, a portable lifting crane can save you time, money and hassle by allowing you to tackle big lifting jobs without all of the extra help or extra equipment.
Uniquely Designed Lifting Crane Kit
The SpitzLift portable lifting crane is purposely designed to sturdy, durable and highly functional. In most cases, people are often shocked at just how lightweight this portable lifting crane is, but don't let that fool you!
Made out of aircraft-grade aluminum, the SpitzLift portable crane is:
Corrosion resistant
Built to withstand heavy-duty lifting jobs
OSHA, ASME compliant
Easy to install and use
Easy enough for ONE PERSON to operate
How Our Portable Cranes Work On Vans
Keeping in mind that every job is different, the SpitzLift portable crane is versatile and can be mounted to the side or rear of your van with a lift capacity of 500 lbs and 900 lbs respectfully.
With each portable lifting crane kit customers can also expect an Interior Stow Mount, which allows the lifting crane to easily be folded, set aside, and/or stored out of sight.
Learn more about ordering a portable crane for your van. Call Van Products today!
919-238-4597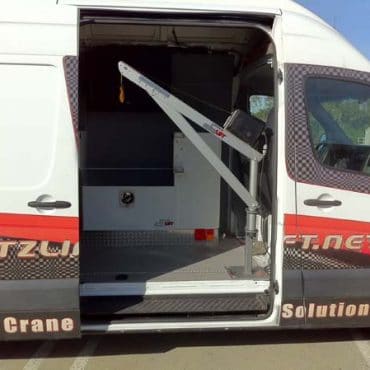 Van Products - Commercial Upfits