Do you own a Ford Transit Connect that you use for commercial purposes? Do you regularly require the use of a ladder for those commercial purposes? If so, then you really need to invest in a ladder rack, which can make your van and, by extension, your work much more efficient and effective.
And, when it comes to finding a great, well-matched ladder rack, Ford Transit Connect owners need look no further than Van Products. We're proud to offer not only ladder racks, but a wide range of other commercial upfits that can benefit both you and your vehicle.
Easier Transport With No Drawbacks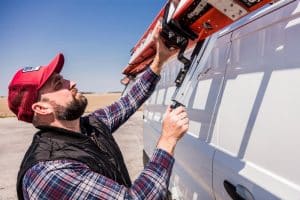 First and foremost, a ladder rack makes it much easier to transport your ladder or ladders. You don't have to shove them into the back of your van, where they can easily get damaged, nor do you have to go through a hasslesome process every time you need to load or unload your ladder.
Unfortunately, despite these benefits, some people veer away from purchasing a Ford Transit Connect ladder rack because they fear it will reduce their fuel efficiency. However, the ladder racks we offer are designed to be lightweight but strong, enabling them to stand up to the toughest use without compromising your fuel efficiency.
Maximized Use of Cargo Space
While there are many ladder rack benefits, another major one is that they save you space. Though the Ford Transit Connect is nice and roomy, if you're like most businesses, you have a lot of cargo to carry. And, because ladders are big and bulky, they can take up a ton of room when stored in the back of your van. Place them outside the vehicle using one of our quality ladder racks, however, and you suddenly have a lot more space for easily storing, organizing, and transporting the rest of your work equipment and materials.
Increased Safety
Finally, you will find that it's very easy to load or unload a ladder using our racking system. This allows you to avoid wasted time, while also decreasing the risk of injury to you and your crew.
When everyone stays safe, everyone is able to keep working and to do so at full-speed. Thus, every member of your team, as well as your business itself, benefits from a ladder rack.
Contact Van Products Today
The advantages of ladder racks reach far and wide. In fact, these are just a few of many potential positives to having one of our ladder racks installed on your Ford Transit Connect van. To learn more or to find a great ladder rack today, we invite you to contact us.
Van Products - Commercial Upfits