Keep your business running smoothly when you're on the road with power inverters from top brands you trust.
Shop our large selection of power inverters, and keep your business running smoothly whether you're at the office or on the road.
What are power inverters?
Power inverters convert battery power or direct current (DC) power into household power or alternating current (AC) power. In order for the inverter to work properly, it is usually hooked up to the vehicle's car battery:
Directly

Via the fuse panel

Via the cigarette lighter

Via a 12-volt accessory socket
Shop Power Inverters from Top Brands
At Van Products, we carry power inverters from top brands in the industry, such as:
PROsine

PROsine International

XPower series

Krieger series

And more!
Need assistance figuring out what type of power inverter you need for your vehicle? Our team of professionals can help you select the best power inverter to you're your specific needs.
Power Inverter Considerations
Before selecting a power inverter, there are several things to keep in mind. At Van Products, our team of specialists can help guide you through the selection process.
Depending on the kind of work you're engaged in, you'll want to consider the following before choosing your power inverter:
Size

Position of the inverter

Watts

Outlets

USB ports
For assistance in selecting the most appropriate power inverter for your vehicle/job, we recommend speaking with one of our knowledgeable team members. Contact Van Products today at: 919-238-4597.
You May Also Considerer
CIC Powerbox™ provides a patented and emission-free portable power and utility system.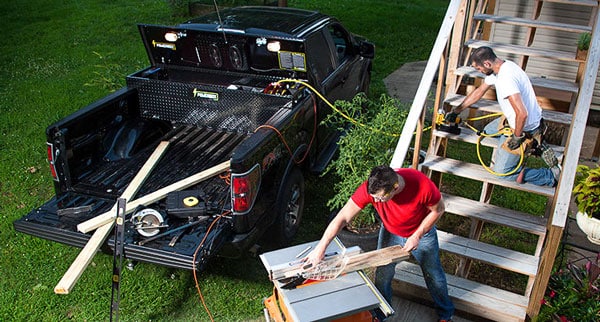 Van Products - Commercial Upfits