If you own and use a GMC van for work purposes, you should know that you don't have to just use it as is. Instead, you can and should add various commercial upfits that are suited to your needs and purposes.
In fact, here at Van Products, we pride ourselves on offering a wide range of amazing upfits, all designed to enable you to use your van to work your way, and to do so more easily.
One of our best and most popular upfits are our ladder racks. And, when it comes to choosing a great ladder rack, GMC van owners should feel confident in coming to us for a perfect match every time.
Quality
Not only do we ensure excellent compatibility and functionality with our GMC ladder rack options, but we also sell only the highest quality ladder racks on the market.
We know that, in many industries, accessories such as these see heavy use, which is why we offer only the most well-made ladder racks crafted from premium materials.
Furthermore, our ladder racks are designed not only to stand up to rigorous wear and tear, but also help your ladders do the same.
Efficiency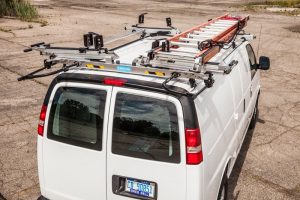 To really see the advantages of ladder racks, just think of how much time and effort you and/or your crew put into loading and unloading ladders from the cargo area of your GMC van.
If you're being honest, you know that it takes a lot of manpower to get your ladder in and out and set it up for use. That's all time and effort that could be spent quickly finishing up a job and moving on to another project.
A ladder rack enables you to effortlessly retrieve your ladder, get the job done, and then put it back into place without a lot of labor. In this way, it's a simple investment that could ultimately save you money and earn you a lot of profit!
Lightweight Design
Our ladder rack benefits also extend to offering ladder racks that, despite their strength, are surprisingly lightweight. This means that they don't add a ton of extra weight to your GMC van, which keeps them from decreasing fuel efficiency. Plus, should you ever need to uninstall your ladder rack, you'll find it easy to do so.
Contact Van Products Today
As you can see, ladder racks can be an incredibly beneficial addition to your GMC van. Ready to install one today? Or, maybe you have questions first. Whatever the case may be, we invite you to reach out to us to learn more.
Van Products - Commercial Upfits