High Quality Computer Mounts for Commercial Upfits
When it comes to computer mounts and laptop docking stations, Van Products has you covered. As your top source of computer and laptop mounts, Van Products laptop mounts are rugged and built to last.
From a single commercial laptop mount for a pickup truck to computer mounts for an entire vehicle fleet – Van Products has exactly what you need to safely and securely mount your computer, laptop, or other mobile device.
Below are two of our featured computer mounts for commercial upfits.
Jotto Desks
Van Products is proud to offer Jotto Desk computer mounts. As one of the leading brands in the industry, Jotto Desk offers a variety of computer mount makes and models, which we can easily customize to fit your vehicle and your work lifestyle.
Choose from docking and mounting stations designed and built to MIL-STD 810F standards. Transform your vehicle into a mobile workspace on wheels – one that is both ergonomic and efficient.
RAM Laptop Mounts
RAM laptop mounts come with a rugged and come with a lifetime warranty. As far as computer/laptop mounts go, RAM is consistently a top for securing laptops in cars, trucks, vans and fleet vehicles. Featuring a patented design and made of lightweight, cost-effective materials, RAM offers a flexible, durable computer mount solution.
Increase Work Efficiency with Computer Mounts
Be more efficient and get more done while on the road with computer mounts that are custom fit for your commercial vehicle. Choose from a wide range of styles, including:
Under seat computer mounts
Floor computer mounts
Side seat computer mounts
We also offer great options, such as computer mounts that install easily without any drilling, or computer mounts that feature universally drilled and slotted bolt holes – making installation easier than ever.
Speak to one of our team members today to find out which style and brand of commercial computer/laptop mount better fits your vehicle and business.
Contact Us Today 
Our specialists are standing by – ready to help you find the perfect computer or laptop mount for your vehicle. Find out more about the types of attachments and accessories that you may need, and increase your productivity with some of the best, most rugged commercial vehicle laptop mounts available!
Contact us today to learn more about our commercial computer mounts!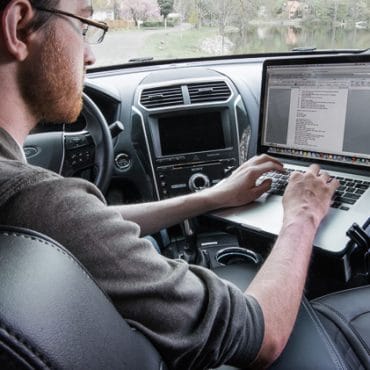 Van Products - Commercial Upfits