If you have a Chevrolet vehicle that you use for work, then you also need to have a tool box installed. No ifs, ands, or buts about it, a tool box is an absolute necessity for any serious professional.
And, when it comes to finding a great, well-made tool box, Chevy owners are in luck! Here at Van Products, we offer a wide selection of quality tool boxes specifically made to complement and enhance your Chevrolet work vehicle.
Keep Your Tools Safe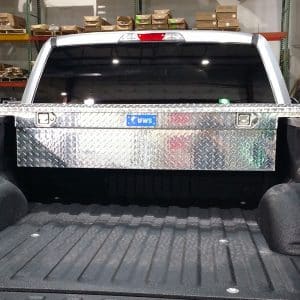 To start with, a Chevrolet tool box, whether it's for a van or truck, can go a long way toward keeping your tools safe.
When all of your tools are securely locked up in one of our strong tool boxes, they'll not only be protected from the elements, but also from thieves. Furthermore, since these tool boxes are firmly attached to your vehicle, they cannot be picked up and carried away.
Also, a tool box is a much better option than just tossing your tools into the back of your Chevy. Inside our secure storage options, your tools won't bounce around or suffer dents, dings, or other damage. They'll be perfectly safe until you're ready to use them!
Get Organized
You'll also find that our tool boxes, as well as our other work van storage options, lend themselves to better overall organization.
When you're just putting your tools in the back of your vehicle, they often bounce around, making them hard to locate when you need them most. With a tool box, on the other hand, you can always go right for the item you need and locate it instantly. Not only does this lend itself to better organization and a more professional image, but it also allows you to get work done more quickly, increasing your productivity.
Benefit from Quality
Finally, you'll find that our Chevrolet toolbox options are of the highest quality. Not only are they well-made enough to stand up to even the toughest daily use, but they also come in many different sizes, styles, designs, and types.
Our friendly team can easily help you to select just the right tool box to meet your needs and match your vehicle.
Contact Van Products Today
Ready to find exactly the right tool box for you? If so, get in touch with us. We look forward to helping you select the best upgrades to improve and enhance your Chevrolet work vehicle.