When it comes to buying commercial upfits for your Ford van or truck, sometimes the simplest options can be the best. For example, after purchasing a tool box, Ford owners often find that this basic addition really transforms the way they work. And, here at Van Products, we've got plenty of great tool boxes to choose from.
Get Organized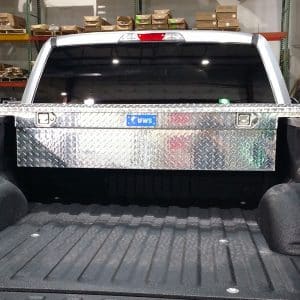 The main reason to have a Ford tool box is to have a designated place to store your tools. Surprisingly, that alone can help in more ways than you might imagine.
When you don't have a tool box, it's all too easy to just toss tools into the back of your van or truck. Unfortunately, this can make them difficult to locate when you need them most. Furthermore, having to search and scramble for tools wastes time and could potentially prevent you from being able to handle an on-the-job issue efficiently.
With a tool box, in place, however, any tool you need can be effortlessly located, allowing you to get right to work without any hassle or wasted time.
Enjoy Quality
Here at Van Products, we are proud to offer Ford work van storage options of the highest quality, and that extends to our tool boxes.
While you could go out and purchase a cheap tool box, you'll likely have to replace it before you know it.
When you buy one of our tool boxes, on the other hand, you get a well-made product that's built to last and to work seamlessly with your Ford vehicle. Our tool boxes are roomy, attractive, and expertly-crafted to stand up to even the heaviest wear and tear, making them a true investment.
Present a Professional Image
Finally, with one of our Ford toolbox options, you'll always be ready and able to present a polished, professional image to customers.
Imagine how you'd feel, as a customer, if you watched someone you'd hired root around in a messy truck or van to try and locate the right tool. That wouldn't inspire a lot of confidence in the professional, the company, or their abilities.
But, when you're able to just grab the right tool instantly and then start to work, you show customers that you are capable and professional, which sends the right message from the start.
Contact Us Today
Want to upgrade your image and your business with one simple purchase? Then contact us today to learn more about our Ford tool boxes for work vehicles, as well as our other upfits. We can take your work vehicle to the next level!