When you use your GMC vehicle for work, it's important to outfit it with everything you need to get every job done. And, luckily for you, here at Van Products, we've got all the upgrades you need to do just that, including our great, high-quality tool boxes.
After adding a built-in tool box, GMC owners often discover a surprising range of benefits, proving that this one simple addition can ultimately make a big difference.
Prove You're a True Professional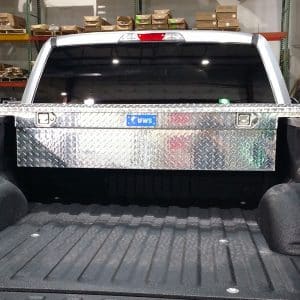 To begin with, a GMC tool box can go a long way toward proving that you're a true professional. With our tool boxes, you'll always know exactly where every tool is, and you'll be able to locate it in an instant, which shows clients you're together and organized.
Plus, no one wants to see the person they've hired scrambling around in a messy vehicle to locate a tool. When dealing with clients who want to oversee everything you do, project confidence and capability with a well-organized tool box.
Take Your Pick
When it comes to work van storage options, we believe in the power of choice! That's why we don't just offer one type of GMC tool box. Instead, we offer a wide range of great tool boxes to choose from, all with different sizes, styles, and price points.
With our great selection, you'll find it easier than ever to select the perfect tool box to accommodate both your vehicle and your needs.
Ensure Security
Finally, when you choose a GMC toolbox from us, you'll always have the option of making it lockable. Our strong, sturdy locking options will keep your expensive tools safe so you can work with confidence whenever you have to be away from your vehicle.
Plus, our tool boxes are designed to attach to your GMC work van or truck so that they can't be picked up and carried off by a thief.
Contact Us Today
As you can see, a tool box can have a great effect on your business and on your GMC work vehicle itself. If a simple tool box can do that, then just imagine what all of our other commercial upfits can do! To learn more about our tool boxes and other great work upgrades, contact us today. We can't wait to serve you.