Mercedes Metris vans make for excellent work vehicles. However, they can be made even better with a few upgrades. And, while there are all kinds of upfits to choose from, almost everyone can get a lot of benefit out of Mercedes Metris van shelves, which are available here at Van Products.
Make The Most Of Your Space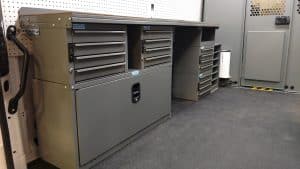 After adding in our van shelves, Mercedes Metris owners often feel like they have a whole new van, at least in terms of storage space.
Without shelves in place, you're forced to just place your items on the floor of the van's cargo area. And, while this might work okay for items that you can easily stack, it's not convenient at all for other things.
Smaller tools and accessories often get lost in the shuffle, making them difficult to locate when you need them. And, when small or medium-sized items are taking up all your floor space, it's hard to find somewhere to store larger equipment.
Add in shelves, however, and your whole van changes for the better! Suddenly, you have a place for everything, as well as leftover floor space for those bulkier items.
Appear Polished and Professional
If a client were to look in the back of your van right now, how would you feel?
If you answered "embarrassed," "worried," or "ashamed," that's a sure sign you need our Mercedes Metris van shelving!
While you can do your best to hide a messy van from clients, eventually someone will get a look inside. It's inevitable. And, when they do, you want your van to appear just as polished and professional as you are.
Send the right message to clients and prospective clients by using our shelves to get and stay organized.
Work Smarter
Finally, know that our shelves don't just help your van look great. They also help it and you to function better as well.
When everything has a designated place, you can find the tool or piece of equipment you need at a moment's notice. That means no scrambling around trying to find an item and no wasted time.
And, the less time you waste throughout the day on tasks like these, the more productive you and your business will be, allowing you to work smarter and increase profits.
Contact Us Today
There's a reason that people love our commercial van shelving. Not only is it strong and durable, but it helps them in a variety of ways. To take your Mercedes Metris van to the next level with shelves and other great upfits, reach out to us today. We look forward to serving you!